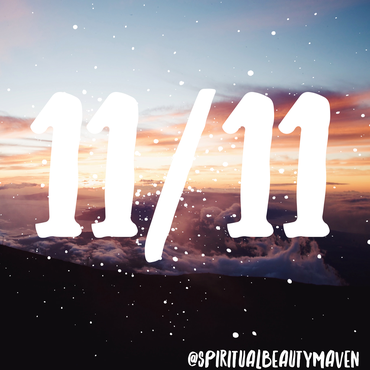 HAPPY 11/11!!!
What a magical day!!!
We all are familiar with 11:11 being the "make a wish" time on the clock but did you know the spiritual meaning of 1111 goes much deeper than making a wish?!
Our Angels, Spirit Guides and the Universe all use this number as a way of communicating with us!
If you see 11:11 frequently (in
any form of the sense 11/11, 1111, 11.11, 11-11) usually indicates some sort of upcoming change or awakening is in the very near future for you!
Its often used by our spirit team to point us in the right direction or to illuminate the path ahead!
So its no doubt that November 11th is a powerful, magical, manifesting day! Feel its vibration!
Set your intentions to dig deeper!
New awakenings, new information as well as new levels of enlightenment are all possible not this day! Embrace the energy!
Embrace that energy that is causing you to think bigger, that inspires you to take the leap into your next chapter! Honor the changes, rebirth and deaths of your old ways and set the intentions for the shifts you desire to make!
And let's not forget we have the energy of the planet Venus in Scorpio now too!
The planet of unconditional LOVE! 
♥️
This planetary position on this magical day of 11/11 is going to have us thinking with our hearts instead of our minds! Be open to all possibilities for the love from everyone you meet!
With that said, its no doubt that romance and creativity will be at an all time high today too! Allow that energy to carry you through the next week!
It will help men and women alike to embrace our inner goddess! Find joy, beauty and positivity in all things!
Take a deep breath! Allow it all in! Activate the energy within you! Open your heart and welcome this magic to raise your vibration!!  
 ♥️ 
 ♥️
♥️