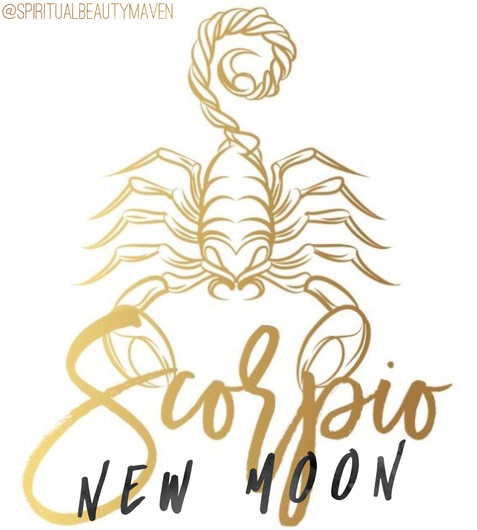 New Moon in Scorpio 
(and a few other planets who are stirring up the energy!)
Peak time: 6:42AM EST
New Moons are a time to set intentions. Make your wishes and set your goals! Time to manifest!
The sign that the New Moon (same here w/Full Moons but we will talk about that in 2 weeks) is in will determine the energetic vibe around it.
The planets and their positions at the same time will also have influence on the energetic vibration.
The New Moon in Scorpio brings a lot of sexual and powerful energy to the table. Transformations are happening and truths are being revealed that were once hidden! The energy cycle is asking us to be honest with ourselves and others. What is really underneath the surface?
The Scorpio New Moon tells us to "get sexy"! Stop worrying about how you look and embrace your appeal! Let go! Scorpio energy likes to get down and dirty! 
😉
Drop Grudges with this New Moon's energy. Karma is very much a part of Scorpio energy so let it go! Grudges are toxic and destructive anyway!
Embrace your shadows and make peace with them. The less you repress them the more free you will feel. Acknowledge the feelings you have and deal with them safely!
It's a great time to enter financial partnerships.
Take your relationships to the next level just be wary of of any attractions that are too obsessive (friendship or otherwise). Any commitments made during the Scorpio New Moon typically stick pretty well.
Along with all of the Scorpio energy happening we have the energy of Mars being square to Pluto too!
Mars and Pluto are strongly related to Scorpio. Mars is the traditional ruler of Scorpio and Pluto is the modern ruler.
Watch your temper and stay away from anyone who has a mean streak. However, the Mars/Pluto square can be very passionate and sexy!
For most people this energy will be still be magical. For those who are already dealing with a situation, just heed caution.
Practice your New Moon rituals! Journal, set intentions, make your wishes, set goals and charge your crystals! New Moon Oracle or Tarot Card spreads shine light on answers you are looking for as well! (I do readings for these! PM me if you are interested!)
There is also a pretty badass New Moon in Scorpio ritual in the pinned post too!
△▽△▽△▽△▽△▽△▽△▽△▽△▽△▽△▽△▽△▽△
How does this New Moon effect your sign? It's best to know you rising sign/ascendant for this. If you need help finding yours, just let me know! You can use your sun/star sign but your rising/ascendant is more accurate as it relates to the most personal point on the horoscope.
♈️Aries – to do with sex and money

♉️Taurus – your love life

♊️Gemini – your daily life

♋️Cancer – re romance, kids and creativity

♌️Leo – at home and with family

♍️Virgo – the way you express yourself 

♎️Libra – your finances and self-worth

♏️Scorpio – your whole life!

♐️Sagittarius – your fears and spirituality

♑️Capricorn – your social life

♒️Aquarius – your career

♓️Pisces – to do with travel and study
HAPPY NEW MOON IN SCORPIO!